The Benefits of Centerless Bar Grinding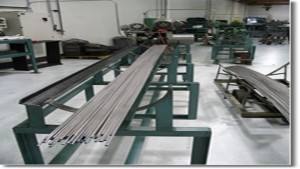 Industry today has many uses for metal bars. Millions of round parts are manufactured each day and many of them must have a high degree of tolerance and accuracy. When bars need great accuracy for outside diameters, centerless bar grinding is one of the most effective and efficient methods. Here is more about centerless grinding and its many benefits.
What is Centerless Grinding?
In many types of cylindrical grinding processes, the bar or round metal must be properly constrained. If not, the grinding machine would not be able to perform its job. With centerless grinding, there is no need to affix or constrain the part. In other words, no center support is required.
To start, a metal bar is fed into the grinding equipment. Inside are two wheels. One is for grinding and the other is used for regulating. The bar is supported by a work blade to keep it at just the right position and supports it throughout the bar grinding process.
The regulating wheel is in just the right position, so it actually pulls the bar past the grinding wheel as it rotates. This way, there is no external feed mechanism required. As the grinding wheel removes material it generates significant heat (due to friction) and a lubricating or cooling fluid may be required.
The regulation wheel does not actually perform grinding duties. It ensures the bar stays in constant contact with the grinding wheel. The regulation wheel also controls the speed of the bar rotation and how quickly it moves through the bar grinding mechanism.
Centerless Grinding Benefits
1. No additional loading time is required, because it is a continuous method.
2. Grinding receives rigid support throughout the process. This eliminates deflection and provides for more accurate cutting.
3. Little distortion makes it possible to grind parts with limited flexibility. During the process of bar grinding, end pressure and axial thrust are nonexistent.
4. There are no errors which can come from centering type grinding processes.
5. Can easily produce large amounts of work with minimal effort.
6. Tolerances can be extremely tight. In fact, it is not uncommon to produce accuracy within plus or minus .0001of an inch.
Finding the Right Bar Grinding Service
When you need a company for high tolerance grinding services, it's best to go with professionals with a great deal of experience. Look for companies with more than 50 years in the business and you can be assured of quality services you can trust. Also, select a company who will be there when you need them and can provide emergency services along with top quality customer service.
If you need bar grinding services, you can depend on Minnesota Grinding for accuracy and dependability. We have been in the business since 1959, and you can find us online today at Minnesotagrinding.com for more information.