Why All Filmmakers Should Be Familiar With Digital Cinema Packages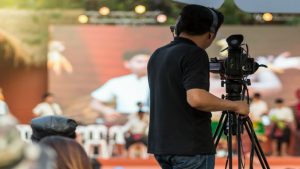 Digital cinema packages are the files used by New York City movie theaters to play their films. These files contain all of the audiovisual files needed to create a projected image that is synchronized with an audio recording. If you want to create a movie that can be played within a modern movie theater, you will need to create a digital cinema package that contains the audio and video files for your film.
Film Has Evolved in Recent Years
Historically, a roll of film was all that was needed to play a film using movie theater technologies. Today, those old rolls of film will likely not work at your local theater since theaters have converted to using only digital formats. Their projectors would thus not be able to play any films that have yet to be converted to a digital file.
Not just any old video file will do, though. Cinemas require exact specifications to be met in order for a file to be played. This is to ensure the file meets the uniform standards that have been put in place so that every movie theater is capable of playing all of the files Hollywood filmmakers distribute. It's basically the equivalent to the 35mm standard that used to exist when physical rolls of film were still playing in theaters.
Create Your Digital Cinema Package from Film Strips and Digital Files
The best part about digital cinema packages is the fact that they can be created from nearly any source of film. Therefore, even if you are working with an old roll of film, you can transfer that film into a digital format so that it may be played in movie theaters.
There are professional conversion companies that specialize in creating digital cinema packages. These companies can turn any film you have into a file that will be playable in modern movie theaters. The file they deliver can be stored on any hard drive so that it may be delivered to a movie theater. Chromavision even lets you watch your film at their private studio in New York City prior to sending it off to a movie theater. Get started today at www.chromavision.net.