When To Use Inconel Studs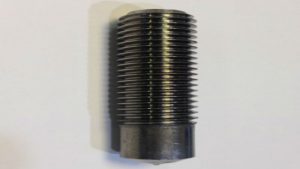 Inconel is not an alloy in common use, but it is an ideal option for specific types of applications and working environments. Understanding more about this superalloy can provide a clear picture of why this type of weld stud may be the best option for durability and resistance to common issues.
The Basics of the Alloy
Inconel was developed in the 1940s in England for construction of a jet engine. It is not a specific alloy but a family of "superalloys." It is an austenitic nickel-chromium based alloy which also may contain iron, molybdenum, niobium, copper, magnesium, cobalt, aluminum, titanium and silicon as well as several other elements in very small percentage by mass amounts.
The different options in Inconel may or may not have all of these elements, which provides some guidance as to which option is best suited for a variety of different applications.
The properties of Inconel studs are the same as for the respective superalloy used in any type of applications. It is highly resistant to oxidation and corrosion, and it is the alloy of choice in applications where there is a risk of high pressure or temperatures. It is much less resistant to creep in extremely high temperatures than aluminum or steel, which means it can be used in engines and turbines as well as submersible pumps, chemical processing equipment and natural gas processing plants.
Important Factors to Consider
As can be expected, Inconel studs are more costly than steel, which means they are typically reserved for specific types of applications.
In environments where rapid and extreme temperature changes occur, this is the ideal option. You will find these studs used in specific types of processing equipment as well as in cryogenic applications.
It is also common to use Inconel studs in marine applications where continuous or frequent exposure to salt water and high temperatures are both issues to consider. For these types of applications, the Inconel will have a much longer life cycle and a far greater risk of failure over time.