What Are Aircraft Cargo Loaders?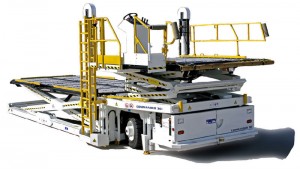 Airports are busy places and not just inside the terminal. Outside on the ramp, the activity is constant as various types of ground support equipment race back and forth. There are aircraft tugs, forklifts, aircraft tow tractors and aircraft belt loaders. It is a very busy environment in which aircraft cargo loaders play a significant role.
What Are Aircraft Cargo Loaders?
Aircraft cargo loaders are a unique piece of ground support equipment. They have a singular purpose: to transfer cargo to and from the aircraft bin. This does not exclude them from being used for transferring baggage and luggage in the same way. They do not, however (nor are they ever intended to) carry luggage or cargo. They are intended merely to unload and load it.
How Aircraft Cargo Loaders Operate
The procedure for operating the unloading and loading of cargo using aircraft cargo loaders is relatively simple in theory but requires skill and training to master. The employees (cargo handlers) position the belt loader at the door sill of the aircraft's cargo (or baggage) compartment. They must do so without allowing any gap between the door sill and the loader. The door is opened and the operation of unloading the plane by placing the baggage or cargo on the loader begins.
The cargo is transferred by the belt onto the waiting transport. This may require several cargo transporters. The loader continues to discharge the cargo until the hold is empty. It then returns to the airport to await its next flight.
Types of Aircraft Cargo Loaders
Aircraft cargo loaders come in different types. They are designed specifically to meet the needs of the diverse sized aircraft. Below are the various types of aircraft cargo loaders:
 * Container Loaders: These are also referred to as cargo loaders or "K loaders." They are designed to load and unload larger pieces of cargo from aircraft. The cargo usually consists of pallets and containers. The aircraft cargo loaders come in different types to address different plane sizes including narrow and wide-bodied aircraft. They have two platforms or decks (main and lower). They can be classified as:
o  3.5 T
o  7 T (standard version, wide-body, universal, high)
o  14 T
o  30 T
 * Gas Belt Loader: This refers to the fuel that operates these type of aircraft cargo loaders
 * Walk Behind Loader: Indicates the position in which employees operate the loader
 * Electric Belt Loader: Denotes the fuel that runs these aircraft belt loaders
Aircraft cargo loaders play a significant role in any airport. They even are designed to handle the loading and unloading of military transport planes. When it comes to hard working ground support equipment, indubitably aircraft cargo loaders rank high.