The Vacuum Check Valve: Variation On A Theme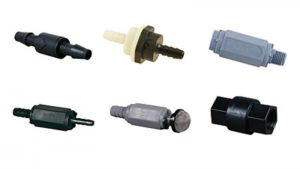 People rarely think about valves or where they are in their homes. Perhaps, the only one that comes to mind is the shut-off valve for water, including the one situated at the base of the toilet. Yet valves are everywhere. Even the lowly check valve and its variation – the vacuum check valve are an integral part of our daily lives.
Check Valves
Wherever there are piping systems, you will find a check valve. These devices are an invariably linked to some form of piping system. As one component of a larger operational device, they act to restrict the flow of any type of material that flows through the pipe. This includes:
 * Air
 * Condensate
 * Gases
 * Liquids including those with fines or slurry
 * Steam
Of simple construction, check valves of all types generally consist of 4 basic components:
1. Body
2. Cover
3. Disc
4. Seat
The design may also incorporate various other items including bearings, spring (common to vacuum check valves), stem and hinge pin.
Vacuum Check Valves
Vacuum check valves perform the same function in conjunction with many automotive systems. As is the case with other check valves, the vacuum check valve is available in a full array of sizes, end connections, and materials. It is possible to purchase these valves in
 * Bronze
 * Carbon steel
 * Cast iron
 * Hastelloy
 * Inconel
 * Monel
 * Plastics
 * Stainless steel
 * Titanium
You can buy the end connections in the following types:
 * Butt weld
 * Flanged
 * Insert
 * Socket weld
 * Threaded
 * Victaulic
 * Wafer
They are very common in the automotive industry preventing leaks of air, although they are also present in HVAC systems.
The Vacuum Check Valve
Check valves are self-actuated and flow sensitive. They rely on the substance within the line to cause them to open and close. They respond quickly and are excellent in performing their task in several applications. The vacuum check valve performs its role, improving the overall operation of a vacuum system in HVACs and automotive applications.