The Ultimate in Luxury: The Ekornes Stressless Chair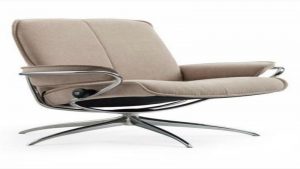 With some of the mass-produced furniture these days, it can be difficult to find high-quality furniture. Fortunately, Ekornes Stressless have kept up the tradition of high-quality furniture with their Ekornes Stressless chair.
Started in Norway, Ekornes was founded by Jens Ekornes in the 1940s specializing in Norwegian furniture. The Ekornes Stressless chair is a staple product for Ekornes. Built with a wooden base and lumbar support, the chair is an instant hit for anyone who sits in it.
Some say the Ekornes Stressless chair is the most comfortable chair ever made. It provides maximum sitting comfort for people of all heights. The secret is in the shape of the seat and back which envelopes the sitter and provides full body support in all the right places. With thick pillows made from foam, the chair is the ultimate in relaxation.
In addition, the chair is perfectly balanced which creates a comfortable position for all body types or weight. It will maintain optimum support and make you feel as if you are floating on air.
The high-quality materials used to build the Ekornes Stressless chair is evident as it glides easily and feels decadent. As with most furniture, the chair is available in a variety of styles and color to match any decor. With sleek lines and minimal style, the Ekornes Stressless chair is perfect for anyone.
When it comes time to purchase your Ekornes Stressless chair, you will be led through a series of customizations designed to make sure you get the best chair that fits you perfectly. You will be able to choose the color, size, and any personal touches. With Ekornes, their motto is the is not finished until the customer receives the chair. The chair you purchase will be customized for you, your exact fit, and exact specifications.
Many have tried to copy the Ekornes Stressless chair but have never been successful.