The Advantages Of Faux Wood Garage Doors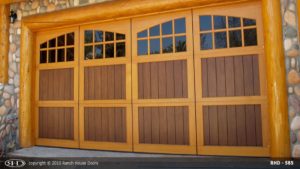 There is something that is warm, rich and welcoming about the use of wood. Wood garage doors, particularly when a stain is used to bring out the natural quality of the wood, have become a sign of quality and style in most neighborhoods across the country.
The Issues With Wood
While wood is certainly durable, resistant and beautiful, it is not a perfect option for all garages and all climates. Wood garage doors, do require some regular maintenance include staining and coating every few years to maintain the color and the protection for the wood.
If you like the look of natural wood but don't want the upkeep, a great option to consider are quality made faux wood garage doors. These are not cheaply made doors that are painted or treated to look like wood; they are high-quality materials that offer a very natural wood-like look with a few additional advantages.
Low Maintenance
When shopping with a manufacturer of faux wood garage doors, you will find these doors are made to look just like wood. In fact, with regards to curb appeal, it will be impossible to tell the difference between these doors and the natural wood options.
However, unlike wood, these doors are made out of synthetic materials carefully chosen for their durability and resistance to the environment. They will not fade from exposure to the sun, they won't warp or crack because of high moisture or freezing and thawing conditions, and they will also be completely waterproof without the need to coat and seal the door's surface.
Additionally, the faux wood garage doors can stand up to continual use, which makes them an ideal choice for a busy family or commercial property. They are typically lower in price than natural wood doors, which is another reason they are a popular option.