Options To Try With Dutch Masters Cigars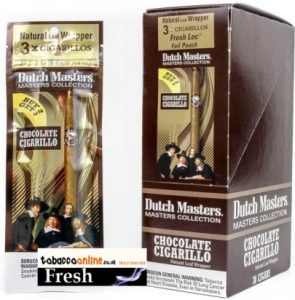 Many people who enjoy a great cigar for a casual smoke or a special event recall their first cigar experience. For a lot of smokers, their first cigar was a Dutch Masters, and this iconic brand continues to be a favorite for cigar lovers around the world.

The name Dutch Masters cigars is a bit misleading. This is not a European company, but rather a US-based tobacco brand. The cigars get their name from a classic Rembrandt painting that is on the cigar boxes produced by the company. The original company producing the cigars in 1912 was the G. H. Johnson Cigar Company, which eventually was purchased by Altadis, a French and Spanish state tobacco company.

Flavors and Cigar Options

In addition to Dutch Masters cigars, the company also produces a range of cigarillos. These are really miniature cigars, and they offer a machine-rolled option for a satisfying and smaller size in smoking enjoyment.

Many people prefer the cigarillos for a shorter smoke. They are also an ideal option for smoking during the day or when a full sized cigar is not an option. Cigarillos offer the same quality smoke and smooth, flavorful experience of the full sized Dutch Masters cigars.

Flavors for both the cigars and the cigarillos offered by the Dutch Masters brand include grape, strawberry, chocolate, wine, white grape, and honey. The cigars come in a range of different styles including the always popular Corona, Palma and, President, as well as sports cigars.

The Palma cigar offers a very natural smoke with very mild tobacco flavors and a wrap of natural tobacco leaves. This is often a first natural flavored cigar for most cigar lovers, and it is always a smooth, satisfying and enjoyable cigar with any type of beverage.