Micron Molding And Small Part Injection Molding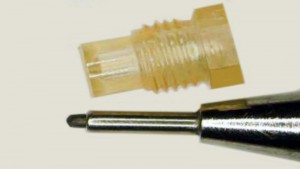 With an increasing demand for medical, dental and components used in electronics, optics, and other types of devices, the need for micron molding, also known as micro molding, is on the rise.
This has resulted in a lot of different companies making the transition from general injection molding to advertising their services for micron molding. While in theory the two may use the same principles, they are actually very different types of processes with the micro molding requiring specialized skills, knowledge and experience.
The Difference
While there is no standard of size between micron molding and small part injection molding, most people would agree that micro molding will produce parts that are lighter in weight than one gram. Many of these parts are incredibly small, particularly the ones used in medical equipment and devices.
However, in addition to the size difference, there are other considerations as well. This can be the actual structural shape of the part, the thickness of the part, and the degree of complexity or detail in the specifics of the part.
A part can be longer, or heavier, but still be classified as micron molding if there are those components which are very thin, highly complex in their design, or a combination of the two.
Incredible Tolerances
With the very small size of the parts and design of the parts, tolerance and repeatability are very large factors in micron molding. The parts have to be produced time and time again with a very specific range in a repeatability factor.
The top companies offering micro molding can offer repeatability ranges of 0.002 to 0.004 mm, which will ensure that the first and the last part off the production line will be virtually identical in all aspects.
Cleanroom Services
As many of the micro molding components are used in medical devices and other applications where sterile components are critical, it is not uncommon for this process to be completed in a cleanroom.
If this is a concern or a requirement for a project, verifying the cleanroom classification of the supplier will be an essential first step in the process.
When you need micron molding, choosing a company with the right experience as well as the right processing options and equipment is a must. This will ensure your components are delivered to the tolerances required by your company, industry standards, or specific regulations as you require.