Getting Great-Looking Walls with Gorgeous Grass-Cloth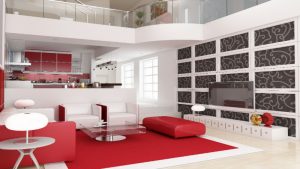 Wallpaper is a popular choice for those looking to add not only attractive patterns and designs to their walls, but also texture. Those taking their inspiration from natural materials may be interested in either natural or faux grass-cloth wallpaper. This appealing paper adds character to your walls.
Delicate Designs, Bold Impact
Grass-cloth gets its visual appeal from its delicate design. Traditionally made from natural fibers such as reed, jute, hemp, bamboo and arrowroot, modern grass-cloth papers might also be made from artificial materials. Typically, these papers have a vertical, linear pattern that can be felt with the fingers, but may also have a basket weave style. Whatever pattern is chosen, these papers bring spectacular visual impact to any room.
There are a variety of colors and styles available for those who are looking to purchase grass-cloth papers. Whether you're searching for muted earth tones or bold, jewel-inspired hues, grass-cloth is an ideal way to incorporate color into your rooms.
Where to Put Your Paper
While grass-cloth is attractive and appealing, it has some drawbacks that make it unsuitable for some rooms. Grass-cloth does not stand up well to a great deal of traffic or to regular moisture, so children's rooms, busy hallways, kitchen and bathrooms are all among rooms that professionals do not recommend for grass-cloth wall coverings. These papers are also somewhat laborious to install correctly, so it is typically suggested that they be used on accent walls or in rooms without breaks in walls that would require specialty installation techniques.
Although grass-cloth wallpaper is delicate in nature, it can make a spectacular impression to visitors and make living and lounging rooms warmer and more welcoming. Whatever application homeowners choose, there is no question that grass-cloth will bring beauty and brightness to any room.