Compassionate and Caring in Home Health Care in Philadelphia PA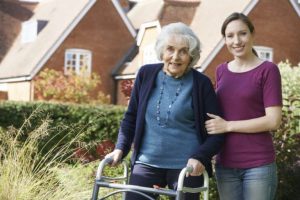 The purpose of home health care and the nursing industry is to provide compassionate and quality care in familiar surroundings. Often this care is provided by licensed healthcare professional or professional caregivers. Both groups ensure all activities of daily living are made easier and are completed.
These services help adults and seniors alike if they need support after a surgery or a hospital stay. Besides the licensed personnel that provides rehabilitative and therapeutic services, other individuals like non-medical care assistants help individuals with bathing, cleaning the home, preparing nutritious meals, and helping the individual eat.
Currently, there are two broad categories that medical and non-medical personnel help individuals with: activities of daily living (ADL) and instrumental activities of daily living (IADL). ADL is composed of the above services.
ADL includes the above as well as shopping for groceries or clothing, using the telephone, and managing money. The second category is aimed towards helping the individual live independently within the community.
These categories can be filled by applying for a position in Home Health Care Philadelphia PA. These positions vary from home health aides to companions and homemakers. Home health aides are required to help with personal care and homemaking duties. Companion services include monitoring the individuals' activities and instructions while maintaining a supportive environment. Homemaker services include changing the linens, washing the dishes and floors, providing public transportation for the individual, and maintaining medication schedules if necessary.
Though providers for Home Health Care Philadelphia PA are plentiful, not all provide consistently compassionate care and quality living for the individuals.
For those looking for trained professionals to care for loved ones, look no further than AmeriBest Home Care. This healthcare provider has several services including skilled nursing, physical and speech therapy, homemaking, home health aides, and social services.