Add Sparkle and a Touch of Class to Any Outfit with the Simple Act of Wearing a Colored Stone Ring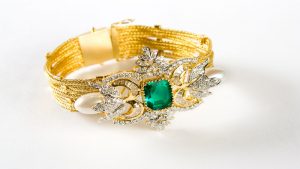 Stone rings have been popular since ancient times and there's a reason for that: even drab natural stones come in such a wide variety of colors and can be made into such an incredible number of styles that they have been the go-to element in wardrobes since the beginning of wardrobes. Who would Cleopatra have been without fingers adorned with dazzling colored stone rings? Or try to imagine any Tsarina with bare hands – it's impossible!
Your Go-To Ring
Rings in general add a finished and thought-through element to an outfit but the real secret to that polished, finalized look, whether its casual day wear or a formal evening gown, is a colored stone ring. With the wide range of styles and colors available, even the simplest blue jeans and white t-shirt combo becomes attire fit for a Sunday brunch in Hollywood. It's truly surprising how few people realize the simple fact that a colored stone ring will spruce up any outfit.
Okay, but How Many Rings Does an Outfit Need?
For most outfits, a single stone ring will do. One quality colored stone ring is worth ten fingers full of simple metal rings and conveys a confident, clean look.
Depending on the size of the ring (or, in this case, rings), two on one hand can really bring a casual look together, especially if the colors of the stones are different but complementary. However, for formal events larger, more eye-catching colored stone rings convey glamor and charisma; in this case, one on each hand is the best way to finish the look.
So go ahead and dive into the world of colored stone rings. They will not disappoint.