6 Reasons Why Eloping Beats a Traditional Wedding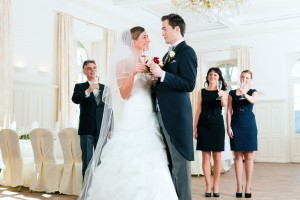 Planning a wedding can be an exercise in stress. Once you get engaged, you have to pay out fistfuls of money so all your family and friends can come celebrate with you on your special day. Then there's all the things you have to choose, like the flowers, the dress, the venue, the menu… By the time the big day arrives, you'll just want it to be over so the worry will end.
Luckily, there's another way. Eloping eliminates most of the problems associated with weddings at a single stroke. Need more convincing? Read on!
1. It's cheaper
If the cost of planning a wedding is what's worrying you, then elopement can be the answer. Since you'll have fewer guests, you'll have fewer needs on the day, so you automatically save thousands. There are plenty of cheap elopement packages out there, so shop around.
2. It avoids potential family fallout
When planning her wedding, Marissa Higgins at the Huffington Post knew that having her family there would just be recipe for fighting and heartbreak. She broke with tradition and eloped without inviting any of them. If that sounds like your nearest and dearest, it could be the right choice for you too.
3. You have more choice in venues
Bustle points out that a destination wedding is much more feasible if it's just the two of you going. You can anywhere your heart desires and find the perfect venue that fits your personality.
4. It's more romantic
In the flurry of picking flowers and appetisers, it's easy to forget the reason why you both decided to get hitched. Running away to get married still feels a little bit secretive and illicit, even though no one has to ask your parents' permission anymore. After all, isn't your love more important than whether Great Aunt Ethel gets to come?
5. You can have a better honeymoon
Related to the first point, the money you're saving on a costly wedding means you can have a spectacular honeymoon. A wedding's only one day, why not use the money on something that lets you relax and enjoy each other's company?
6. You only have to please yourself and your partner
At the end of the day, this is what it's all about. You're celebrating your relationship and the next step in your lives. It's all about you two, so why let anybody else stand in your way?