4 Common Palletizing Systems for Your Business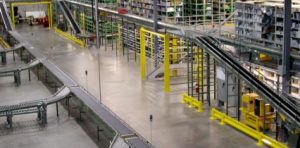 When you change your material handling system to pallets, you enjoy many advantages. For example, goods are easier to transport, load, and unload. You have fewer problems with spillage and damages. Palletizing systems help you save space and choosing the right system for your business is an important decision. Here are four of the most common systems you'll find today.
1. Floor-Level Equipment
Floor-level machines work on the first floor only. They are perfect for facilities with low ceilings. Pallets feed in from underneath. Packages enter the feed section, and a device turns them in the right direction to form the first row. Next, it pushes the loads on a pallet. The system rises to stack the next row of materials in different patterns and so on. Once finished, the loaded pallet leaves the machine. It may then enter a stretch wrap machine to fully secure the load and can give you as many as 50 cases per minute.
2. High-Level Palletizers
A high-level palletizer can do the same job as a floor-level machine. However, it works differently. Floor-level systems lift the materials to stack each row. High-level units lift the pallet to meet the next row of materials. When finished, the machine lowers the finished pallet to the discharge conveyors.
High-level systems use less floor space than floor-level units. They can produce up to 200 cases each minute.
3. Robotic Palletizing Systems
Robotic machinery can work as a floor-level or high-level system. You can program them to palletize several loads at once. Robotic systems are extremely fast and efficient and can do complex stacking patterns.
Load Transfer Stations
Perhaps you need to transfer loads from one pallet to another. Transfer stations offer the perfect solution. Load transfer palletizing systems are semi or fully automated, depending on your setup. Your material handling specialists can help you with all your warehousing needs.