Taking Care of Your Industrial Refrigeration System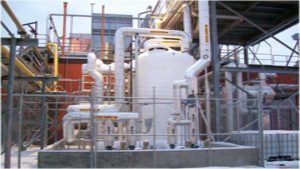 Even the best chilling and cooling systems need proper maintenance. This ensures they run efficiently and give you few problems. In fact, most industrial refrigeration services recommend these simple and effective maintenance tips for avoiding downtime and headaches.
Cleaning Ice Making Machinery
Many businesses depend on ice for food and beverages and over time, this equipment can get dirty. It doesn't take long for mold or bacteria to grow even if temperatures are below 30 degrees Fahrenheit. Ice making systems should have complete cleanings at least twice a year. To keep up efficiency, schedule your cleanings far ahead of time and on days when you won't need the equipment.
Condenser Coils
It's important to keep condenser coils clean. In fact, it's part of most industrial refrigeration services for routine maintenance. Dirt and dust can accumulate on these coils, reducing cooling efficiency. If they get too dirty, your cooling system may shut down.
You should check condenser coils about once a month. Most systems have access panels which let you get to the condenser coils for cleaning. If you don't know where they are, ask your technician to show you.
The Importance of Frequent Maintenance
When you schedule routine maintenance from industrial refrigeration services, you receive many benefits. Your technician cleans all the coils and checks out fan blades, motors, compressors and other components. He looks for signs of trouble like condensation and checks the pressure in refrigerant lines. This gives you the following benefits:
 * Increased efficiency – clean chillers and cooling systems run smoother and use less energy. Savings are substantial with large systems.
 * Extended life – your equipment lasts longer when it's maintained properly. This protects your cooling investment.
 * Fewer problems – Your industrial refrigeration services are there to make sure you have fewer problems with downtime. This is especially important if you don't have backup systems in place.